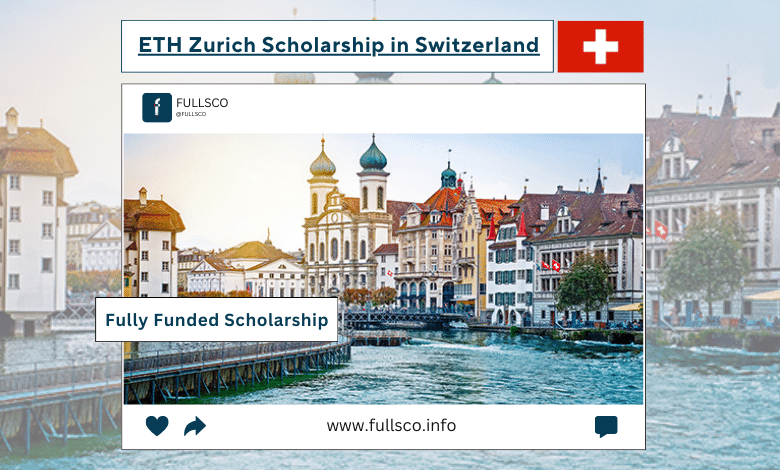 The ETH Zurich Scholarship for the academic year 2024-2025 is designed to offer Full Funding to international students pursuing Master's studies. This scholarship encompasses a grant that covers both living expenses and study-related costs, with a sum of CHF 11,000 per semester, along with a waiver of tuition fees.
The scope of academic fields and majors available for the Switzerland master's degree Scholarships at ETH Zurich University is comprehensive, encompassing nearly All Areas Of Study. The scholarship's duration for master's degree programs typically spans either 1.5 years or 2 years, equivalent to 3 or 4 semesters, depending on the specific course of study. Recipients of the scholarship benefit from coverage of living expenses and educational fees.
Part of this offering is the Excellence Scholarship & Opportunity Program (ESOP), which provides recipients with a fully funded scholarship, mentorship, and access to the ETH Foundation's network.
ETH Zurich Scholarship Details
Host Country: Switzerland
Institution(s): ETH Zurich
Level of Study: Master
Deadline: December 15, 2023
Stay connected with us on WhatsApp and get the latest updates from our blog.
Also Check: Maastricht University Scholarships in Netherlands 🇳🇱 (Fully Funded)
Scholarship Benefits
The Excellence Scholarship/ESOP consists of a scholarship covering living and study expenses (CHF 12,000 per semester) as well as a tuition fee waiver.
The ETH-D Scholarship consists of a Partial Stipend for Living and Study Expenses (CHF 7,500 per semester) as well as a Tuition Fee Waiver.
The Department will Additionally Provide a Scholarship of CHF 3,000 Per Semester or offer an Assistantship (with a payment of CHF 500 – 600 Per Month).
Available Study Fields
The available study fields for master's degree programs covered by the ETH Zurich Scholarship in Switzerland encompass a wide range of disciplines, including :
Engineering
Computer Science
Mathematics
Physics
Architecture
Environmental Sciences
Eligibility Criteria
Bachelor's degree with grade A required.
No previous awards accepted.
Pre-proposal for Master's thesis mandatory.
Required Documents
Motivation Letter
Pre-Proposal for your master's
CV
Two Recommendation Letters
How To Apply
Apply through e-apply (Online Master Application).
Remember to apply during the initial scholarship opening.
For additional ETH (ESOP) Scholarship details, visit the official link provided.