Scholarships
Japanese Government (MEXT) Scholarship 2024 (Fully Funded)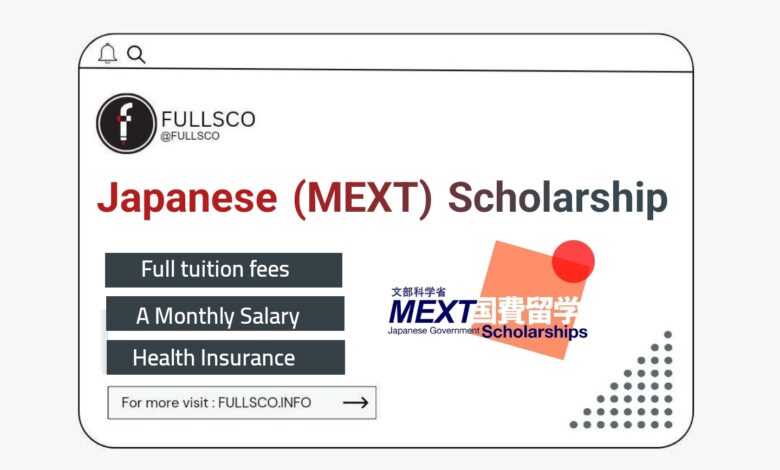 Every year, the Japanese Government 🇯🇵 Accepts Applications for the Fully Funded Monbukagakusho (MEXT) Scholarships for Bachelor's, Master's and Ph.D. Knowledge of Japanese and IELTS / TOEFL is not mandatory. MEXT Japan Fully Funded Scholarship 2024 is offered for applications that are open to all students from all over the world.
---
MEXT Scholarship 2024 Details
Country: Japan
Number of Scholarships: Not specified
Study Level: Bachelor, Masters and PhD
Fields of study: all fields and majors
Deadline: (Check your country page for details on dates for each country)
---
MEXT Scholarship Benefits
100% of the tuition Fee
Admission Fee, Books Fee
A Monthly Allowance
Monthly Stipend
Living Allowance, Accommodation, Meals Covered.
Traveling Allowance
Round Trip Airfare Tickets by MEXT Japanese scholarship.
Another support is also provided a
---
Eligibility Criteria
International students to study in Japan who meet the following qualifications and conditions MEXT will accept their applications submitted:
Accepts applicants from all countries without any nationality restrictions.
Requires non-Japanese nationality.
Mandates the submission of all necessary documents.
For Bachelor's Students: Completion of secondary education is required when applying for an Undergraduate program.
For Master's Students: Completion of an Undergraduate program is necessary when applying for a Master's.
For Ph.D. Students: Applicants with a master's degree are eligible for Doctoral Degree programs.
Does not require IELTS.
MEXT Scholarship Requirements
The applicant must:
Be medically fit.
Have the intention to come and study in Japan without engaging in any other activities.
Be between 17 to 35 years of age.
---
How to Apply
Application Steps for the MEXT Scholarship:
The application process is determined by each embassy.
Follow the process specified by the Japanese Embassy in your country.
Find the links to all Japanese Embassy websites below.
Look for your country name, open the link, and visit the "News Section" or navigate to the "Study" or Scholarships section to access MEXT Scholarship details.
Apply for the "MEXT Scholarship 2024 Embassy Recommendation." If the scholarship is not currently available in your country, check the website regularly for announcements.
---