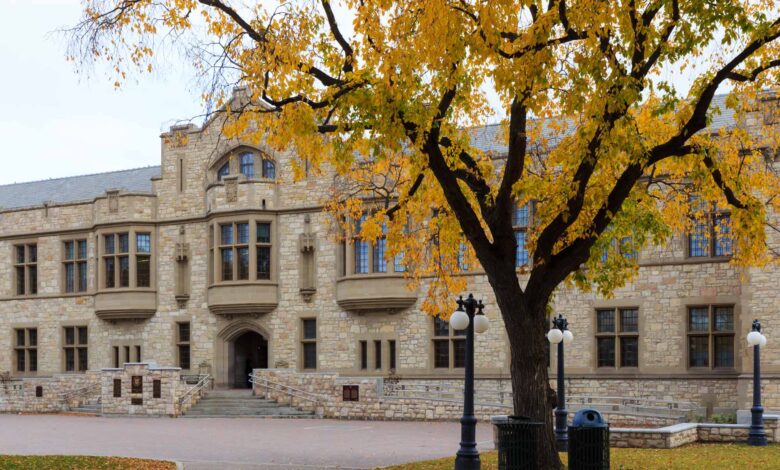 University of Saskatchewan Scholarship 2023 in Canada. Open to all to apply from all over the world for students who are eligible to apply for international scholarships at the University of Saskatchewan. The university offers prestigious awards to all students of any nationality to study abroad. Aspirants who wish to study in Canada with scholarships for a bachelor's, master's or doctoral degree are also encouraged to apply.
---
University of Saskatchewan Scholarship Details
University: University of Saskatoon
Degree level: Undergraduate, Masters, PhD
Scholarship coverage: Funded
Eligible nationality: International
Award country: Canada
---
List of Available Study Fields:
Society and Law
Agriculture, Plants, and Animals
Math, Engineering, Technology, and Physics
Business and Economics
Life Sciences and Chemistry
Health
Teaching
History, Culture, and Arts
Indigenous Programs
Environment and Earth Sciences
Languages and Communications
Under University of Saskatchewan Graduate Scholarships (UGS):
Anthropology
Art & Art History
Curriculum Studies
Education – cross-departmental PhD program
Indigenous Studies
Languages, Literatures, & Cultural Studies
Large Animal Clinical Sciences
Linguistics & Religious Studies
Marketing
Music
Philosophy
Small Animal Clinical Sciences
Veterinary Pathology
Women, Gender & Sexuality Studies
---
University of Saskatchewan Financial Benefits:
The University of Saskatchewan Scholarships 2023 in Canada for International Students is offering multiple student scholarships of different value. Below are the details of each scholarship:
Undergraduate Degree Scholarships:
University of Saskatchewan International Excellence Awards: This award will give an amount of $10,000.
International Baccalaureate (IB) Excellence Awards: Value: $20,000
Canadian Curriculum Schools Awards: Value: $15,000
Council of International School Awards: Value: $15,000
Maple Leaf International School Awards: This scholarship will give a grant of $10,000.
To know more about Bachelors Degree scholarships (Visit Here)
Postgraduate Degree Scholarships:
The university also offers a number of scholarships for its postgraduate degree programmes, details are given below for each award:
University Dean's scholarship: This scholarship will provide for a master's degree up to two years and a doctorate degree up to three years.
University of Saskatchewan Graduate Scholarships (UGS): UGS is open to students in specific departments only. New and continuing students must be nominated in an acceptable academic position by their departments. Value: Masters: study for up to two years; PhD study for up to 3 years. (Details)
You can find more Postgraduate Degree Scholarships (Visit Here)
---
University of Saskatchewan Scholarship Eligibility Criteria
For Ph.D.: Master's degree or equivalent.
For Masters: A four-year university degree.
Bachelor's: To have a high school diploma.
Proof of English language proficiency in IELTS, TOEFL or Duolingo English Test.