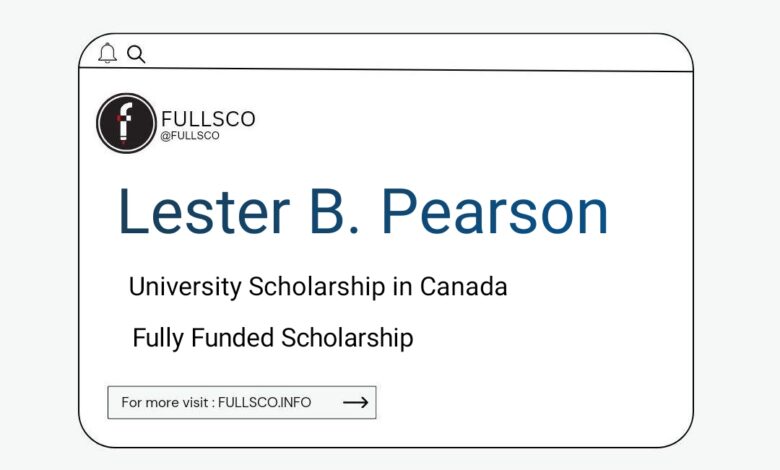 Lester B. grant scholarship. Pearson in Canada is now available to apply online, as it provides an opportunity for bright minds to study at one of the best universities in the world, namely the University of Toronto.
The University of Toronto is a world-leading research and educational institution and the Toronto full scholarship is an introduction through which the university offers undergraduate students the opportunity to pursue an academic career within an interconnected educational community.
Lester B. Grant. Pearson Details
| | |
| --- | --- |
| Host country | Canada |
| Scholarship Name | Lester B. Pearson |
| Host University | University Of Toronto |
| Degree level | Bachelor's degree |
Lester B. Pearson Fully Funded Scholarship
Check France Eiffel Excellence Scholarship 2024 🇫🇷
Available Fields of study for application
Pearson scientists can choose the field of study from 700 University specialties, the most prominent of which are the following
Life sciences
Engineering
Computer science
Music and architecture
Commerce and Administration
Humanities and Social Sciences
Kinesiology and physical education
Physical and Mathematical Sciences
Financial Benefits
The University of Toronto International Scholarship covers the following ;
Full tuition fees will be covered for four years.
A book allowance will be awarded.
Incidental costs will be fully covered.
Accommodation is entirely the responsibility of the host organization.
Lester B. Pearson Scholarship Application Requirements
All international students can apply.
Applicants must not be Canadian citizens.
International students who have completed high school in Canada can also apply.
Applicants must be nominated by a school or college.
Applicants must be students in the last year of high school.
Applicants should not have started their studies in higher education at any institution.
Applicants must be first-time graduates.
Check The Spanish Government Scholarship 2023-24 🇪🇸
How to apply?
Applicants applying for the Bachelor's program at the University of Toronto.
Applicants must be nominated by a college/school and must have received a nomination from the school.
Applicants should make sure to contact and verify their high school to apply for this scholarship. If they are not contacted, institutions must first submit an application for participation.
Select your program options at the University of Toronto. Only the first option of this study will be considered for the Pearson Fellowship.
Once nominations are received and applicants are submitted to the university, they will receive a personal and secure link to the Lester Pearson International Scholarship.
Complete the online application from the specified link.