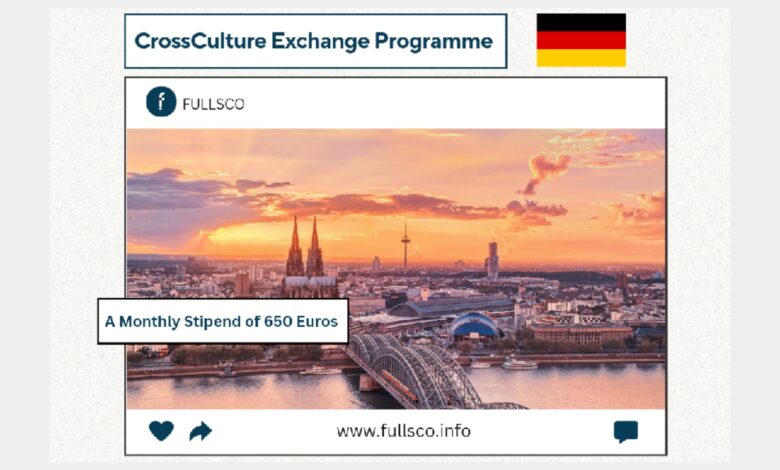 The Cross Culture Exchange Programme 2024 is an excellent opportunity  that is now open for applications. Through the CCP fellowship over 75 fellows from host organizations in Germany or one of the partner countries get experience in intercultural networks each year. The CCP will choose 60 professionals and devoted volunteers from up to 40 countries to spend 2 to 3 months in Germany.
In exchange, the host organizations gain from the CCP Fellows, experience, regional knowledge, and networks. Participants can also attend CCP-hosted transcultural workshops, networking events, and professional opportunities. Fellows then apply their newly acquired experience to their home organization after returning to their regular working lives.
Details About CrossCulture Exchange Programme 2024
Institute: Institut für Auslandsbeziehungen
Duration: 2-3 months
Eligible nationality: International Applicants
Award country: Germany
Deadline : 18 December 2023
Available Fields & Topics
Media and culture
Policy and society
Civic & citizenship education
Sustainable development
Human rights and peace
Non-formal political education
In addition, in 2024 the following key topics will also be focussed on:
Climate justice
Digital civil society
CrossCulture Exchange Financial Coverage
The following costs will be covered by the IFA as part of the CCP fellowship in Germany:
For international participants :
A Monthly Stipend of 650 Euros
Costs For Round-trip Airfare
Full Accommodation
Transportation
Health Insurance
Any Visa Fees Spent Will Be Reimbursed.
For German participants :
A Monthly Stipend Of 1200 Euros
Round-trip Airfare.
Health Insurance
Because participants are not permitted to bring family members such as spouses or children, the ifa DOES NOT cover any fees or undertake any responsibility for additional people.
Participating Countries
Algeria, Armenia, Azerbaijan, Bangladesh, Bhutan, Bolivia, Brazil, Colombia, Cuba, Egypt, Germany, Guatemala, Haiti, India, Indonesia, Iran, Iraq, Jordan, Kyrgyzstan, Lebanon, Libya, Mauritania, Mexico, Morocco, Nepal, Pakistan, Palestinian Territories, Republic of Moldova, Russia, Sri Lanka, Sudan, Tajikistan, Tunisia, Ukraine, Uzbekistan.
Eligibility Criteria
Candidate age requirement: 23-45 years
Minimum of two years of professional or voluntary work in a civil society organization in the home country
English proficiency (written and spoken)
Good health for extended periods abroad
Required Documents
Letter of motivation
Recommendation letter
Photo (optional)
CV (must be written in English including details about education/training, work experience, volunteering and other skills)
How to Apply for the CrossCulture Programme in Germany
Applications for the German CrossCulture Programme must be submitted online.
To apply :
Using this application portal, choose the relevant country for applications.
Fill out the application form and attach your documents. All documents must be available for upload when the application starts because the application system cannot cache any data.
Using the application site, submit the filled-out application.
Applications that are incomplete, sent via email, or submitted after the deadline will not be accepted.
What follows the application?
Applicants will get an email confirming the receipt of their application.
Shortlisted applicants will be called to an interview by the Selection Board after the deadline has passed.
Selected candidates will be notified via email.
Applicants who are not chosen will also be notified via email.
---