Internships
DESY Summer Student Program 2024 in Germany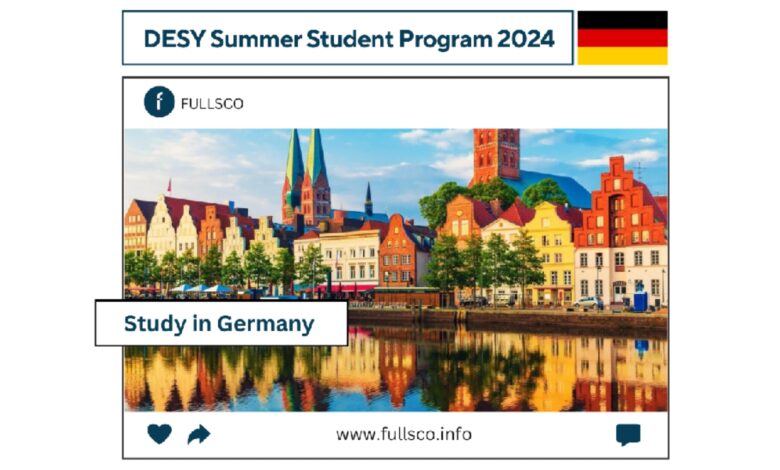 Do you want to learn from the experts in one of the leading research centers in Germany? If you are a bachelor's or master's student in physics, engineering, computer science, or related fields, you might be interested in the DESY Summer Student Program 2024. This is an opportunity to spend 8 weeks working on a research project at DESY, where you can explore topics such as particle physics, photon science, astroparticle physics, and more. You will also attend lectures, seminars, and workshops, and interact with other students and scientists from around the world. DESY will provide financial support for your travel, accommodation, and living expenses.
About DESY Summer Student Program
Country: Germany
Program Dates: July 16–September 5, 2024
Financial Benefits: Fully Funded
Deadline: January 31, 2024
Program Benefits
Participants will get a monthly stipend of 1200 Euros
Travel costs will be partially covered by DESY
Visa assistance and invitation letter will be provided by DESY
Accommodation in the DESY Hostel will be available at reduced rates
DESY Summer Student Program Fields
Photon science
Elementary particle physics
Astroparticle physics
Eligibility Criteria
Applicants must have studied physics, computing or related fields for three years at university
Applicants must have a bachelor's degree or be in their master's degree studies
Applicants must not have participated in the DESY summer program before
Applicants must have good English and computing skills
Applicants must have EU-conformed vaccination
Applicants must be available for the whole program duration at DESY
Required Documents
CV (1-2 pages)
University grade certificates
Valid passport (for EU or non-EEA applicants)
Two reference letters
How to apply for the DESY Summer Student Program?
To apply to the DESY Summer Student Program 2024, follow these steps:
Create an Online Account: Create an account on the DESY Summer Students website: https://summerstudents.desy.de/
Complete Online Application Form: Fill out the online application form comprehensively, providing accurate and detailed information about your academic background, research interests, and previous experiences.
Upload Supporting Documents: Upload the required supporting documents, including your CV, transcript, letter of motivation, and letters of recommendation, in the specified formats.
Submit Application: Review your application thoroughly for any errors or omissions, and submit it once you are satisfied.
Await Selection Results: DESY will notify applicants of their selection status via email.