Internships
OECD Internship 2024 in France (Fully Funded)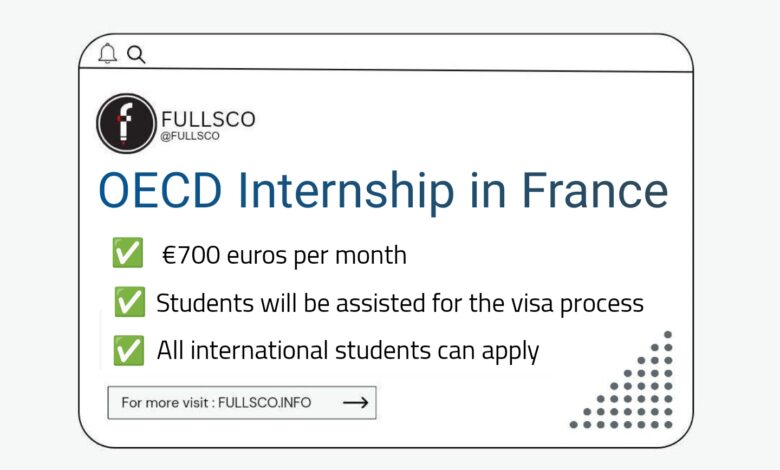 OECD; French: Organization for Economic Cooperation and Development, OCDE) is an intergovernmental economic organization with 37 member states, established in 1961 to stimulate economic progress and global trade.
It is a forum for countries that describe themselves as committed to democracy and a market economy, and provides a platform for comparing policy experiences, searching for answers to common problems, identifying good practices and coordinating domestic and international policies for its members. In general, members of the OECD are high-income economies with a very high Human Development Index (HDI) and are considered developed countries.
OECD nternship details
Country of Study: France
Location: Paris
Number of Internships: 500 Internships/year
Internship Duration: 6 months (renewable)
Internship Type: Paid
Eligibility: Open to all nationalities
Deadline: open throughout the year
OECD Internship Benefits
Students will be provided with 700 euros per month.
Students upon their selection will be assisted by the OECD team for the visa process.
Students will be learning with diverse team members.
OECD Internship Corporate Functions Areas
Artificial Intelligence
Bribery and corruption
Climate
Competition
Corporate Governance
Development
Digitalization
Economy
Education and Skills
Employment
Energy
Environment
Finance
Gender and Diversity
Health
Inclusive Growth
Industry, Innovation and Entrepreneurship
Insurance and Pensions
International Migration
Investment
Public Governance
Regional Development
Regulatory Reform
Science and Technology
Statistics
Tax
Tourism
Trade and Agriculture
Transport
Eligibility Criteria
All international students can apply.
Students enrolled in a fully accredited degree program in a field related to the OECD can apply.
Students enrolled in Bachelor's, Masters's, or Ph.D. can apply.
A candidate must be able to available for at least one month for an internship.
A candidate should have a command in the French and English languages.
A candidate must have IT and quantitative skills.
A candidate must good communication skills.
How to Apply for the OECD International Internship 2023?
International students are encouraged to apply throughout the year for OECD internships in Europe.
Submission of applications is done online through the official portal.
The application can be filled out in either English or French.
If the student is rejected, he can apply the next time as well, and this is one of the advantages of the scholarship.
Requirements:
A photocopy of the passport
Proof of students enrolled full time in an academic institution.
medical insurance
A scanned copy of the visa or work permit
French bank account details.