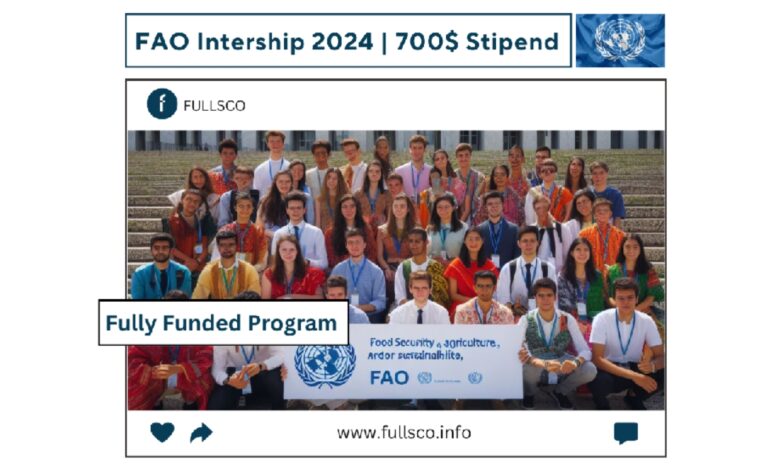 FAO Internship Program Without IELTS, FAO is known for making international efforts to eradicate hunger, achieve food security for all, and ensure that people regularly have access to enough high-quality food to lead active and healthy lives. With more than 195 member countries, the organization operates in more than 130 countries around the world.
FAO, which stands for Food and Agriculture Organization, is a global organization dedicated to tackling hunger, enhancing nutrition, and promoting food security.
The FAO Internship Program welcomes applications from individuals currently pursuing undergraduate or postgraduate degrees, as well as recent graduates. Participating in this internship will provide an opportunity to enhance understanding of FAO's activities and initiatives.
FAO Internship Details
| | |
| --- | --- |
| Organization | FAO |
| Location | Rome, Italy |
| Financial Coverage | 700$ Stipend |
| Education Level | Bachelor, Master, Ph.D |
| Duration | 3-11 Months |
Financial Benefits
Stipend for FAO interns: Maximum of US$ 700 per month in local currency.
Medical coverage is provided for service-related incidents.
Internship duration: 3 to 11 months.
Fields Of Training In The (FAO)
Land and water resources
Crop production and protection and land management
Animal production and animal health
Fisheries and aquaculture
Forest science
Food and agricultural policy
Agricultural research, extension and development
Agricultural industry and rural infrastructure
Knowledge management program and Information and Networks
Emergency and Rehabilitation
Desert Locust in the Central Region of the Near East
The role of women in development
Agricultural Statistics
Countries available for training at FAO
There are many countries targeted by FAO, such as: Egypt, Bahrain, Comoros, Cyprus, Djibouti, Algeria, Iraq, Jordan, Kuwait, Lebanon, Libya, Mauritania, Morocco, Oman, Palestine, Qatar, Saudi Arabia, Somalia, South Sudan, Sudan, Syria, Tunisia, Turkey, United Arab Emirates, Yemen.
Eligibility criteria
Be enrolled in an undergraduate degree program (Bachelor's, Master's or PhD).
or have graduated from an internationally recognized educational institution (i.e. included in the IAU/UNESCO database) at the time of application or recent graduates.
That the applicant be a specialist in any field related to the tasks and work of the organization.
Have a working knowledge of at least one of the FAO languages ​​(Arabic, Chinese, English, French, Russian or Spanish).
Knowledge of a second language of the institutional languages ​​is an advantage.
To be a citizen of a country that is a member of the organization.
You must be between 21 and 30 years old.
You must be able to adapt to an international, multicultural environment and have good communication skills.
If you have family members (brother, sister, mother, father) working for FAO under any kind of contractual arrangement, you are not eligible to participate in the internship programme.
You must have appropriate residence or immigration status at the proposed duty station prior to starting the internship assignment.
If you have previously trained at FAO, you are not eligible for further training.
FAO pays you a monthly stipend if you are not supported by universities or other entities.
Application form.
Motivation letter.
Graduation certificate or proof of enrollment in a recognized university, or a copy of academic qualifications attached.
Language proficiency certificates (if any).
How to apply for the FAO Internship Program
First Step: Create an account on the FAO website to start applying from here.
Second Step: Fill in the following information and upload the required files: personal information, education information, employment history, certificates…etc.
Third Step: Review and submit your application.
Important information for applicants
It is best to submit the application well in advance of the deadline.
Your application will be examined according to the information in your file.
Only approved academic papers or degrees obtained from an educational institution recognized on the list of the International Association of Universities or UNESCO will be considered.
Applications will be reviewed and only applicants who are eligible for interviews will be contacted by the recruitment office and contacted again, if selected for training.