Scholarships
University of Malaya Scholarships For international students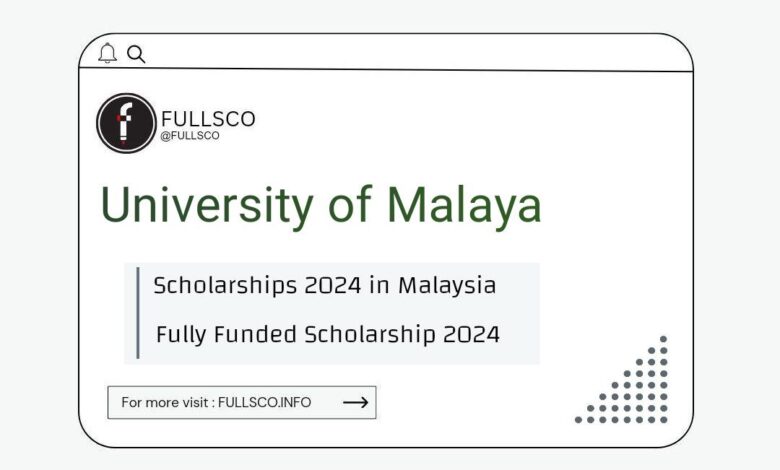 The University of Malaya Scholarships for International Students is very distinctive for being the oldest institution in Malaysia, University of Malaya is located in Kuala Lumpur, the capital of Malaysia. The university is also known as UM, and it is known that the university was established in Malaysia in 1905 and that its first name King Edward VII College of Medicine, but after merging the College of Medicine with Raffles College, this university was named after the University of Malaya since the state of Malaysia was known at the time by the name of Malaya.
Details About University of Malaya scholarships
Country of study: Malaysia
University of study: University of Malaya
Scholarships offered: Funded by the University
Coverage of Scholarship: fully funded
Degrees available: Postgraduate and Doctorate degrees in all departments
Available Degree Programs
Islamic Studies
Malay Studies
Built Environment
Languages and Linguistics
Pharmacy
Economics and Administration
Engineering
Education
Dentistry
Business and Accounting
Medicine
Science
Computer Science
Creative Arts
Law
Benefits of the University of Malaya Scholarships
Financial expenses of any student during his studies in any field covered by the university, such as:
All expenses for their stay.
Financing other basic living needs.
Eligibility Criteria
International and domestic students can apply for the scholarship program at the University of Malaya.
A student can apply for master's and doctoral degrees.
ITo be eligible for this scholarship, a student must first be accepted by the University of Malaya.
How to Apply for University of Malaya
Students must login to the university portal to complete the application portal.
Applicants do not have to submit a separate application for assistance.
They must apply for the scholarship with the application for admission.
The students are required to present the following documents to the university:
Academic Transcripts, National High School Certificate with grades being 80% and above
Diploma with CGPA more than 3.00
Financial Statement for self-financing or letter of guarantee from the sponsor
Interview in selective programs
Students visa approval letter
Admission Requirements:
A student must have a relevant previous qualification with a CGPA of more than 3.00 to be accepted as a student at the University of Malaya.
Language Requirement:
The applicants are required to attain minimum scores in the following English language proficiency tests:
IELTS – 5.5
TOEFL IBT – 213
TOEFL PBT – 550
TOEFL CBT – 80
PTE – 42