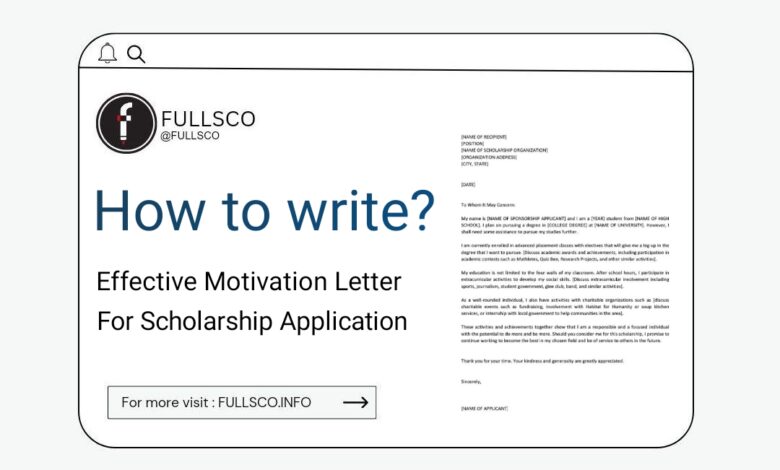 When applying for a scholarship, one of the key components of your application is the motivation letter. This letter allows you to showcase your passion, achievements, and future goals, while persuading the scholarship committee that you are the ideal candidate for their program. In this article, we will guide you through the process of writing an effective motivation letter that will increase your chances of securing that coveted scholarship.
---
Understanding the Purpose
Motivation Letter serves multiple purposes. It provides insights into your personality, demonstrates your motivation and commitment, and highlights your academic achievements and potential. Moreover, it allows the scholarship committee to assess your suitability for the program in terms of your alignment with their values and objectives.
---
How To Write Motivation Letter?
Now is the moment to compose an exceptional motivation letter for your scholarship application. The letter of motivation should include the following key points:
#1 Title and header
Begin by introducing yourself: Provide your personal details and contact information in a header.
Let's explore the key elements that should be included in your header:
Full Name
Contact Information
Date
Scholarship Name
Example Header for a Motivation Letter:
[Your Name]
[Your Address]
[City, State, ZIP Code]
[Email Address]
[Phone Number]
[Date]
[Scholarship Name]
[Scholarship Committee]
[Scholarship Organization]
[Address]
[City, State, ZIP Code]
---
#2 introduction
To begin your letter, it is crucial to state the reasons behind your application for the scholarship. Introduce yourself by sharing the program you have been accepted into and highlight its connection to the scholarship. Right from the start, establish yourself as the ideal candidate for this opportunity, with the remaining sections of your essay reinforcing this notion.
---
3# Your relevant work experience
Highlight your pertinent work experience. Avoid duplicating your CV in your motivation letter; instead, focus on illustrating specific instances and providing examples that demonstrate your development and overall potential.
Consider the following tips to effectively leverage your work experience within your motivation letter:
Be selective
Provide context
Showcase growth
Employ specific examples
Connect to the scholarship
Example:
Instead of simply stating, "I have extensive work experience in marketing," consider providing a more detailed and impactful illustration:
---
"In my role as a marketing intern at ABC Company, I collaborated with a diverse team to develop and execute a comprehensive social media campaign that increased online engagement by 25% within three months. Through this experience, I not only honed my strategic planning and analytical skills, but I also learned the importance of effective communication and adaptability in a fast-paced industry. This experience heightened my passion for marketing and confirmed my desire to pursue a career in brand management, aligning perfectly with the scholarship's emphasis on fostering future marketing leaders."
---
By following these guidelines, your motivation letter will effectively complement your CV, allowing you to showcase your work experience in a compelling and unique way. Remember to focus on specific situations, demonstrate your personal growth, and highlight the holistic potential you possess.
---
#4 Your educational background
Emphasize your educational background. Highlight academic achievements that are relevant to the scholarship or organization you are applying to. Avoid merely listing information from your school transcripts. Instead, focus on describing challenges and accomplishments that demonstrate your dedication and showcase your best qualities.
Select relevant achievements
Provide context and detail
Showcase personal qualities
Connect to the scholarship/organization
Example:
Instead of simply stating, "I have a Bachelor's degree in Engineering," provide a more detailed and engaging description:
---
"During my undergraduate studies in Engineering, I successfully completed a research project focused on sustainable energy solutions. This project presented numerous challenges, from designing cutting-edge prototypes to conducting complex data analysis. Through dedication and collaborative teamwork, we developed a cost-effective solar cell technology that improved energy efficiency by 30%. This experience not only broadened my understanding of renewable energy systems but also instilled in me a deep passion for environmental sustainability. It aligns perfectly with the scholarship's commitment to promoting sustainable practices and innovation in the energy sector."
---
#5 Enhance your Motivation Letter
To enhance the effectiveness of your motivation letter, it is advisable to include a well-defined action plan showcasing what you intend to accomplish if awarded the scholarship.
Detail the research project you aspire to undertake as part of your Bachelor's or Master's program and explain how the scholarship would facilitate its realization. By doing so, you will demonstrate your foresight, drive, and specific objectives, thereby avoiding any misconceptions that you are merely interested in financial support.
Example:
---
As a passionate and dedicated student, I have devised a comprehensive research project that I plan to pursue during my Bachelor's/Master's program.

Specifically, I aspire to focus on the impact of renewable energy resources on mitigating climate change. By conducting an in-depth analysis of current green energy initiatives and their effectiveness, I aim to develop sustainable strategies that can be implemented in various sectors. This research endeavor involves collecting and analyzing extensive data, collaborating with experts in the field, and disseminating the findings through publications and presentations.

Receiving the [Name of Scholarship] would be instrumental in realizing this project. The scholarship would not only provide essential financial support but also grant me access to invaluable resources, mentorship programs, and networking opportunities. With the scholarship's assistance, I will have the necessary tools and guidance to conduct meaningful research and contribute to the greater cause of environmental sustainability.

By showcasing a concrete research plan through my motivation letter, I hope to demonstrate my commitment and determination to make a tangible impact in this field. It is not merely about obtaining financial aid; rather, it is about engaging in transformative research and utilizing the scholarship's support to shape a better future for our planet.
---
Remember, when presenting your action plan, make it specific, realistic, and aligned with your academic interests and the goals of the scholarship program. By doing so, you will provide a convincing argument regarding your motivation and drive to make a difference with the help of the scholarship.
---
#6 conclude your motivation letter
To conclude your motivation letter, it is important to summarize the key points mentioned in your essay and reinforce the notion that you are the ideal candidate for the scholarship. Express gratitude towards the institution and the selection board, and then proceed to sign off on a positive note.
Here's an example to illustrate this:
---
In summary, my motivation letter has delineated my passion for [your field of study], highlighted my academic achievements, and showcased my commitment to making a positive impact in this field. With a well-defined action plan, I have outlined the concrete steps I intend to take and how the scholarship would greatly facilitate the realization of my goals.

I am sincerely grateful to [Scholarship Organization/Institution Name] for offering aspiring students like myself the opportunity to pursue their dreams. The [Name of Scholarship] not only represents financial assistance but also signifies recognition of my dedication and potential within the field. It is an honor to be considered as a candidate for this esteemed scholarship.

I truly believe that my academic background, research aspirations, and unwavering determination make me an ideal recipient of the [Name of Scholarship]. Given the opportunity, I am committed to making significant contributions to [your field of study] and society as a whole.

Once again, I extend my deepest gratitude to the selection board for considering my application. I eagerly look forward to the possibility of being a part of [Scholarship Organization/Institution Name]'s prestigious scholarship program.

Yours sincerely,

[Your Name]
---
It is essential to convey appreciation for the opportunity and express your confidence in your suitability for the scholarship. Remember to personalize the conclusion based on your own experiences and aspirations while maintaining a professional and thankful tone throughout.
---