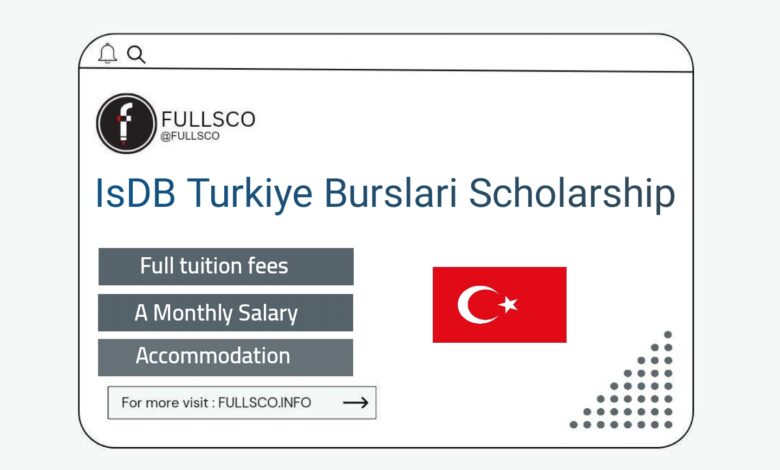 Applications are open to submit your application for the Fully Funded IsDB Turkiye Burslari Scholarships 2024. The IsDB and Turkiye Scholarship is a Joint Scholarship Program by the Islamic Development Bank and Turley scholarship to study in Turkey, and international students can study Bachelors, Masters, and PhD degree program at the most prestigious university in Turkey.
IsDB Turkiye Burslari Scholarships Details
Country: Turkey
Degree Level: Undergraduate, Master, PhD.
Financial Coverage: Fully Funded
Level & Duration
Undergraduate Scholarship: 4-6 years (depending on the normal duration of the program)
Master Scholarship: 2 years
PhD. Scholarship: 4 years
Financial Coverage
1800 Turkish liras as a monthly salary for the undergraduate program
2100 Turkish liras as a monthly salary for a student for a master's program
Stipend of 2,600 TL for Ph.D. a program
Full tuition fees
flight ticket
Turkish language course for one year
University fees
Accommodation
Available Fields
Accounting
Agriculture Economy
Agriculture
Archaeology
Architecture
Art History
Astronomy, Physics
Automotive Engineering and Technology
Biochemistry
Biology
Biomedical and Biotechnology Engineering
Botanic
Business and Management
Chemical Engineering
Chemistry
Civil Engineering
Common-Law
Computer Engineering
Constitution/Public Law
Dentistry
Design (Graphic Design, Industrial Design, Fashion, Textile)
Development Studies
Documentation and Record-Keeping
Economy, Econometrics
Educational Sciences, Comparative Education
Electrical and Electronic Engineering, Telecommunications
Environmental Engineering
Environmental Sciences, Ecology
Finance and Banking
Food Science and Technology
Forestry
General and Comparative Literature
Genetic Engineering
Geodesy, Cartography, Remote Sensing
Geography
Geology
Geomatic Engineering
History
Horticulture
Industrial Engineering
Informatics
International Law
International Relations, Field Studies
Islamic Theology
Journalism
Languages
Livestock Breeding
Maritime Engineering and Technology
Marketing and Sale Management
Materials Science
Mathematics / Statistics
Mechanical Engineering
Media Studies
Medicine
Microbiology, Biotechnology
Museum Studies, Preservation
Nuclear and High Energy Physics
Nursing, Midwifery, Physical Therapy
Optics
Pharmacology
Pharmacy
Philosophy and Ethics
Physics
Political Science, Public Administration
Preschool Education
Psychology and Behavioural Sciences
Public Relations, Publicity, Advertisement
Radio/Television/Cinema
Security Studies
Social Services
Sociology and Cultural Studies
Soil and Water Sciences
Special Education
Teacher Education
Tourism, Catering and Hotel Management
Transportation and Traffic Studies
Transportation
Urban and Regional Planning
Veterinary Physician
Zoology
Eligibility Criteria
Citizens of any of the IsDB member countries or Muslim communities in non-member countries.
For Undergraduate, Completed secondary education or the equivalent of approximately 12 years of education and studying with good grades in major subjects.
For Master, Be a graduate with a score above "good" in your undergraduate studies.
For PhD, Hold a master's degree in one of the program's fields of study.
For Post Doc, Hold a doctorate degree in one of the approved fields of the program. Not less than two (2) years of research experience.
You have not received any other scholarship.
The applicant must be medically fit and willing to undergo medical examinations after selection.
Deadline
The Last Date to apply for the IsDB Turkiye Scholarships 2023 is 15th April 2023
How to Apply
The Application Process is Online for this Scholarship Program. To Apply, Please: