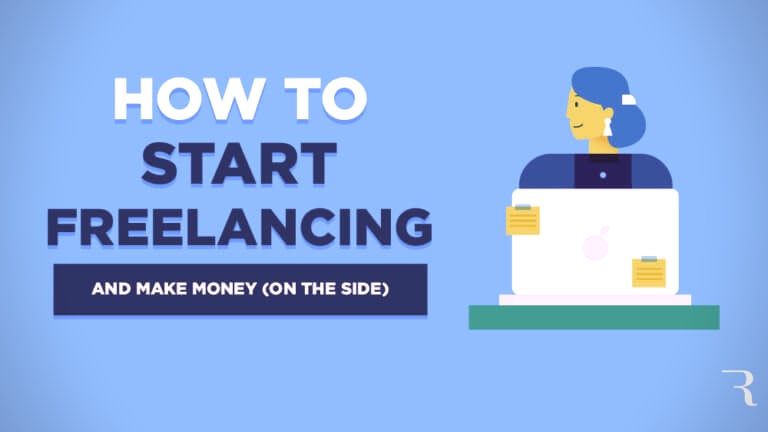 Freelancing provides a great opportunity to get new in the job market. As a freelancer, you will have the freedom to work according to your time and location and such perks will lead to growth in your self-employment industry. In fact, more than half of the workforce in America works independently in some service, according to a recent research study by Upwork.
But how do you start freelancing online? If anyone wants to take that step and is starting to become a freelancer but is not sure how to get started, I will discuss your steps to becoming a freelancer.
Other terms for freelancing
Not everyone uses the term freelancer when it comes to the service a freelancer might perform. In fact, even most self-employed people refer to themselves as being self-employed. So here are the other terms you might want to be aware of that relate to self-employment
Contract work: Jobs where you are working to fulfill a short-term or part time contract
Contract job: Same as above.
Independent contractor: This is the IRS classification of a freelancer
1099: Freelancers are paid using a tax form called a "1099-MISC" as opposed to your typical, full-time W2. Sometimes "1099" is used to refer to a freelancer.
Contract consultant: This term refers to a consultant coming in under a 1099 contract for a short period of time.
Contract-to-hire: Sometimes freelancers are interested in full-time employment. Contract-to-hire roles provide a sort of "test period" for a freelancer before they are hired full time.
How does freelancing work?
Freelancers accept payment to provide some type of service.
This agreement is generally part-time or short-term.
For example, if someone hires a photographer to take new photos of them, they can pay their freelancer for that session.
Sometimes people pay freelance professionals to work a set number of hours per week or per month.
Lots of clients, pay the client a set amount of time, and get paid for it regardless of whether that full time is used or not.
It is really one of the simplest and most profitable forms of entrepreneurship in which the freelancer provides a specific service or result, for which the buyer pays a fee directly.
What type of work can I do by freelancing?
Online businesses are becoming more open and interested in hiring freelancers who do many different types of work. So self-employment is becoming more and more acceptable for a variety of jobs.
Step 1: Get The Right Equipment
We always advise not to start freelancing and rush to make money fast. Because self-employment is not a get-rich-quick scheme, it requires a lot of hard work. It may take years to earn a steady income from freelance work.
There is no work that you can do with just a smartphone. You must have a computer or laptop because smartphone applications are limited. And you need a computer to run the required software to perform the work correctly and produce great results.
2. Get the skills
Choosing a job that uses the skills you already have is the easiest way to work freelance. But if that's not possible for you, you'll need to be willing to improve on your skills. Here are some sites where you can start acquiring the skills you need.
Step 3: Polish Up Your Skills
When you find a marketable skill, you need to make sure that you can offer it as a service.
Simply put, you have to be really good at what you do in order to be able to get paid for it.
For example, let's say you want to be a freelance writer on health and wellness blogs. This category has a good audience. You should also have experience writing about it.
However, this does not mean that you can simply write blog posts for an online audience, as blogs and online publications use very different writing methods, article formats, and standards that are primarily intended to appeal to the general audience.
So now you need to learn how to write blog posts for an online audience, so you must know how to use WordPress and more.
It's the same for every other independent skill and service out there. You can't jump right in without trying to learn the basics of it all. You have to hone your skills first.
Read books and subscribe to YouTube channels and blogs related to your skills and your self-employment industry.
Also, taking online courses is the most effective way to learn, hone and train a skill properly. Check out the links below.
Step 4. Tips for finding work as a freelancer
We give you tips on how to search for a job, with suggestions on what you can do to make it easier to find freelance work online.
5. Package your skills into a service offering
Choosing your skills is a first step to starting a freelance business, after which you will need to sell them.
How can you actually use these skills with someone else?
What service do you provide with these skills?
Writing is a good skill and email copywriting is a service.
Coding is a skill and creating custom mobile apps is a service.
In short, in order to sell your skills, you have to think of it as a service.
Step 6 : Find The Right freelancing platforms
Here are a few sites that you can try for freelancing jobs:
Working on a few of the services from these sites helps you understand how freelancing has progressed as a job for you, which helps you understand it, but before heading to these freelance websites, you need to create a freelance brand for yourself. To do that, follow these steps:
Decide which services to offer.
Determine the market and target audience.
Find the platforms on the freelance websites you'll be working on.
Choose a username that is standard on all of them to help you build your brand identity.
Determine pricing for your services
Create an online wallet on your own specialized wallet platforms.
We also suggest creating a personal portfolio website to showcase your skills and talents.
Market your services.
Marketing on social media.
Offer something for free or at a lower cost to help attract more customers.
Ask for referrals.
Use email marketing.
It is not useful to leave your source of income and start self-employment, we do not suggest that, but you can try freelancing as a part-time project to see how it works for you in the first months.
It is absolutely not necessary to be self-employed full time. It is up to you to decide whether you want to do full-time freelancing or keep your current job and earn money during your spare time.
If you feel really excited about the way things are going, it's time to move on to the next step.
Next Step
Once you can save yourself money and work in this way, the next action is to multitask to make money online. This should include courses you've taken personally using the above methods as well as from freelance websites.
Another possibility is that you can make them work full time, because full time freelancing also means that you can create various forms of income such as:
Negotiate monthly services.
Negotiate your commissions on sales projects.
Create referral systems to reward customers who send you new customers to the site.
Marketing yourself directly and creating the perfect personal brand for you.
6 : Promoting yourself
When you are a junior freelancer, you should not focus only on providing your core services. You also need to get good at marketing yourself. This requires you to present a professional image of yourself online, write great proposals and applications for your business, and speak well about what you do. This isn't always easy for new freelancers, so here's some info to help.
Your online image
Working online is an absolute must these days if you want to be a professional. Your website is the most convenient place where you can share all the skills you have and the previous work you have created, to give your potential clients an insight into what they can get from you. It is also an opportunity to share information about the opinions of clients you have worked with previously, to provide evidence that you are a worthy and reliable freelancer. If you have not created a website before? Not a problem. You don't need a good website to promote yourself. Here's how to create the perfect online freelance website as you will also need some additional marketing materials to market your website.
Looks professional from the start
When you start your freelance business, it can be difficult to know what to include on your website. Maybe you don't have a lot of past clients or a portfolio to share. But there are some tricks you can use to make your business look bigger than it is. Take a look at some of the professionals in this field and take useful advice from them.
Write great presentations
Presenting a job promotion and making a name for yourself requires you to spend a lot of time, especially when you start working on websites where freelance jobs are listed, because you will be competing with many freelancers, so it is important to be skilled and good at this quickly, so that you can Get more jobs.