Internships
Summer Internships in USA 2023 | Woods Hole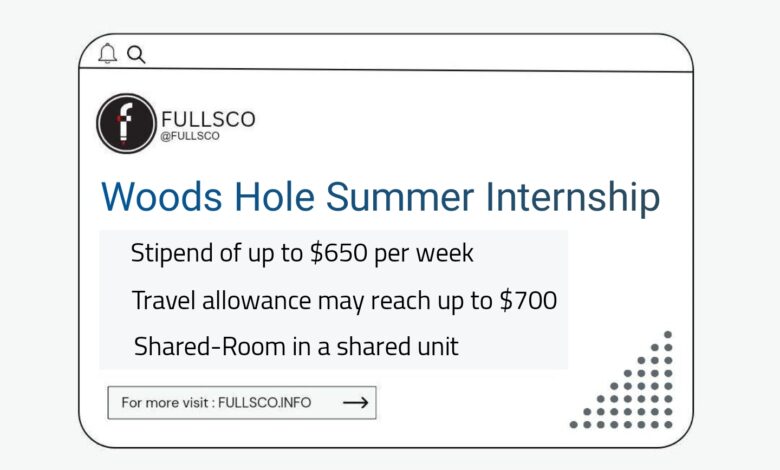 Summer Internship at Woods Hole in the USA is open to international students. International internships are for undergraduate students from all over. Students of any nationality can also apply for this paid international internship. Everyone who participates will spend 10 to 12 weeks with a team of world-class scientists. Food, meals, visa and monthly allowance are covered; Accommodation expenses are also covered by the US government.
Woods Hole Oceanographic Institution is a private research institution offering a higher education opportunity to study marine science and engineering.
Details About Woods Hole Summer Internship
Country: Massachusetts, United States
Duration: 10-12 Weeks (May-June)
Financial Coverage: Fully Funded
Deadline: 5th February 2022
Woods Hole Summer Internship Financial Benefits
Woods Hole Internship in USA for International Students is a paid internship program that is fully funded for international students and will cover all their expenses.
Monthly Stipend: Special weekly stipend of up to $650 per week.
Airfare Tickets: Round-Trip to Woods Hole. Travel allowance may reach up to $700.
Housing: Shared-Room in a shared unit, with two single beds per room.
Visa Assistance: International Students Fellowships assists in obtaining the necessary paperwork for a J-1 visa.
Internship Areas
Students studying in any of the fields of science or engineering are given preference including:
Science
Engineering
Physics
Oceanography
Mathematics
Biology
Geology
Meteorology
Chemistry
Engineering
Geophysics
Marine Policy
Woods Hole Summer Internship Eligibility Criteria
Training programs are open to all international students of any nationality.
The internship program is available to undergraduate students in their third year of college.
Students who will graduate before the fellowship begins are not eligible to apply.
The fellowship will begin in May 2023.
Students must be in a three-year bachelor's degree program in their second year.
Students in a five-year joint bachelor's or master's degree program must be in the third year of the programme.
Required Documents
A current CV showing the applicant's educational background and work experience.
Two letters of recommendation from professors.
Good personal statement.
Any certificates related to additional curriculum activity.
The reference book should be directed to the reference page on this site.
The application server will not automatically connect to the references listed in the student application.
How to Apply
Everyone who applies for the program online must complete the application form and upload documents. To Apply, Please Visit the Official website for the Woods Hole Summer Internship