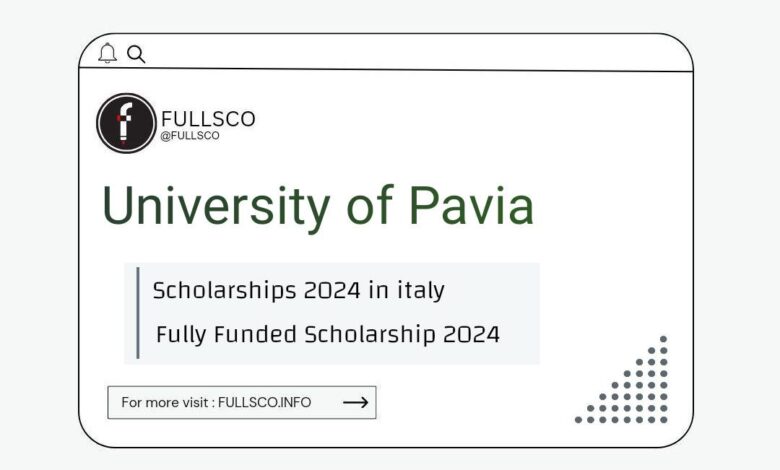 Apply for the University of Pavia Scholarship in Italy and benefit from the main objective of the scholarship is to promote international cooperation between different cultures, usually countries classified as having low economies and per capita income of middle and above average income. This scholarship is also offered to students from these countries for a study and research-based educational program at the University of Pavia.
University of Pavia Scholarship 2024 Details
Country: Italy
Degree: Undergraduate, Master & Ph.D Degree Programs
Coverage: Partial & Fully Funded
Available specialties
There are many specializations that you can look at:
Benefits of University of Pavia Scholarship
The University of Pavia grants up to 150 full tuition fee waiver and tuition fee waiver at the university to all international students enrolled in scholarship programs and courses in the academic year 2023/2024.
Edisu Scholarship benefits include:
Accommodation
One meal per day at the Canteens
A sum of money, according to the student's economic situation.
Subject-specific Scholarships: This scholarship varies for students according to their needs and financial situation.
Invest Your Talent in Italy Scholarship: The scholarship provides partial or full fee waiver The program also includes a 3-4 months internship in an Italian company with an Italian language course.
Study in Italy Scholarship: This scholarship is provided by the Italian Ministry of Foreign Affairs and International Cooperation Grants to foreign nationals not residing in Italy and Italian citizens living abroad.
Educations.com This scholarship provides a sum of €5,000 to help students cover tuition fees. It is a scholarship open to students from any country.
Part Time Jobs in Pavia University: The University of Pavia offers students several part-time employment opportunities.
Financial Support For Mobility Experiences: During the student's academic career, he or she can take advantage of the opportunity to spend a period of study or training from 2 to 12 months in any country in the world.
Important Notes
The scholarship is available to everyone.
There is no upper age limit.
There is no fee when submitting an application.
Required Documents for Submission
passport.
Transcripts and graduation certificate.
Biography ( from here ).
Letter of Intent ( from here ).
Criterion for Candidates
IELTS/TOEFL is required for application.
Fluency in writing and communication in English is required.
The applicant must submit a complete and correct application form.
The student's academic record is a must for the applicant.
The student applying for the scholarship must have a high school diploma and is therefore eligible to apply for a bachelor's degree.
Applicants with a bachelor's degree are eligible to apply for a master's degree.
Candidates holding a master's degree are eligible to apply for a Ph.D.
Students of any nationality are eligible for the Pavia University Scholarship (domestic, international).