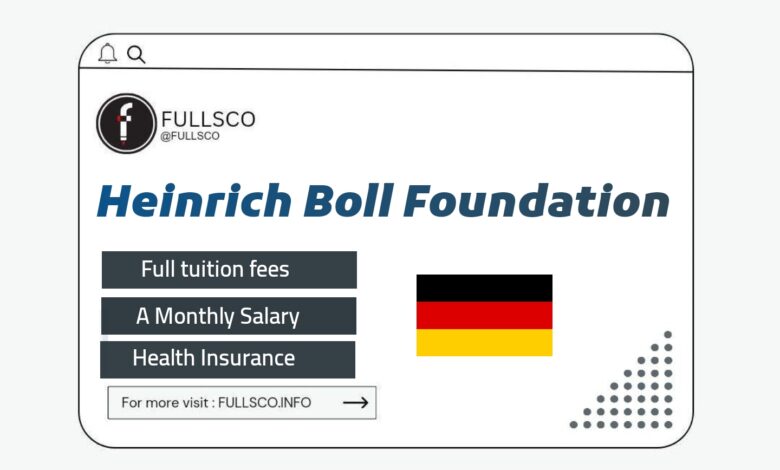 You can apply for the Heinrich Boll Foundation Scholarship, which is offered to international students from different nationalities around the world who would like to have the opportunity to start studying a bachelor's, master's or doctoral degree in Germany in the academic year 2024-25. And if you wish to study in Germany, the scholarships will help advance your academic and professional goals by removing financial barriers in order to cover education expenses.
Heinrich Boll Foundation Scholarship Details
Host country: Germany
Host Organization: Dad Foundation and Heinrich Bolle
Eligible Countries: Domestic and International students
Study level: Bachelor's, Master's and Ph.D.
Number of scholarships awarded: 1000 scholarships
Funding provided by a Heinrich Boll Foundation grant
Master's studies:
Students admitted from outside the European Union: 850 euros per month plus various individual allowances for students; Tuition fees in some cases are possible in Germany.
EU students: maximum of €649 plus book fees of €300 per month; Tuition fees are not available to German students but are possible to a limited extent in other countries.
The scholarship is awarded for the regular study period, and may be extended by one semester.
Doctoral studies:
Non-EU students: 1,200 euros per month plus 100 euros per month mobility allowance, plus various individual allowances; The rest of the possible tuition fees.
EU students: €1,350 per month basic scholarship plus €100 per month allowance for book costs; Tuition fees are not possible for German students but are possible to a limited extent in other countries. The scholarship is awarded for a period of two years as a general rule and may be extended twice, at most, for a period of half a year.
Documents required
During the application process for the Heinrich Böll Foundation Scholarship, the student must provide the following documents:
Application form.
University entrance qualification or equivalent.
List of certificates Degrees to date if you have already started your studies.
For foreign applicants wishing to obtain a scholarship to study for a master's degree: a certified copy of the academic record.
Student registration certificate.
Written proof of German language proficiency. Minimum of DSH 2 or B2.
A reference letter from a third party regarding your social commitment.
Recommendation letter from a university lecturer.
Conditions for applying to the Heinrich Boll Foundation scholarship
Proof of the required German language level (B2 or DSH).
High school grades and academic standing; If required from you, first graded evidence of academic achievement.
Social participation and interest in politics.
Determine the goals of the organization.
Responsible and motivated individuals who are willing and willing to play an active role in the work of the organization.
How to apply for the Heinrich Boll Foundation Scholarships
Please note that only online applications are accepted.
So you should gather information about the application process and required documents.
Register on the online application portal.
Provide the required information in the online application portal.
After uploading all your documents, submit your application before the application deadline ends.