Scholarships
Stipendium Hungaricum Scholarship 2023 (Fully Funded)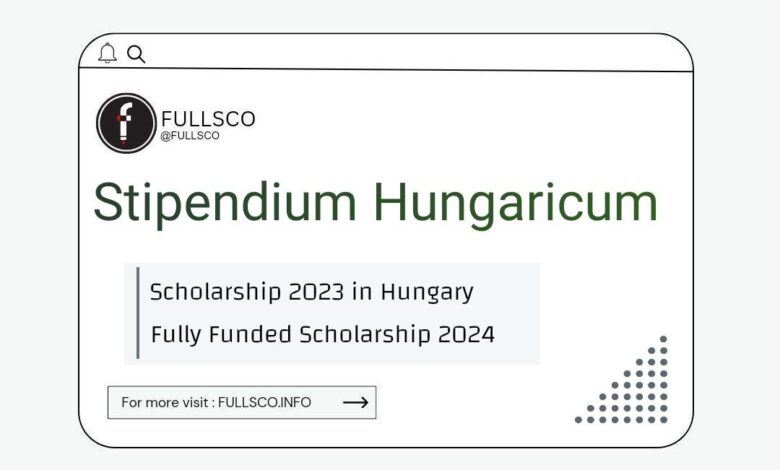 Do you want to study abroad on fully-funded scholarships in Hungary but unfortunately cannot afford the IELTS exam? Then we have good news for you.
The Hungarian Government's Stipendium Hungaricum Scholarship Program provides international students with the opportunity to study in Hungarian universities for free.The core mission of the program is to increase the number of foreign students in Hungary and to encourage Hungarian higher education institutions to attract top foreign students. The program is managed by the Tempus Public Foundation.
---
Stipendium Hungaricum Scholarship Details
Host Country: Hungary
Degree: Bachelor, Master's, Doctoral, Non-Degree
Financial Coverage: Fully Funded
Fields: all fields
Deadline: 15 January 2024
Also Check Hamad Bin Khalifa University Scholarship 2024 in Qatar 🇶🇦
---
Scholarship Benefits
The Government of Hungary is providing full funding for the Stipendium Hungary Scholarship. This scholarship will pay the following expenses:
For B.A./M.A., One-Tier Masters, and Non-Degree Programs
There is no tuition fee.
A monthly stipend of HUF 43,700 (approximately EUR 120) for a period of 12 months
A Free dorm room or a housing allowance of HUF 40,000 per month will be provided.
Medical insurance for up to HUF 65,000 (approximately EUR 180) per person is provided for a period of 12 months.
For a PhD :
There is no tuition fee.
a monthly stipend of HUF 140,000 (approximately EUR 390) for the first four semesters
a monthly stipend of HUF 180,000 (approximately EUR 500) for the second phase of four semesters until graduation
Free dorm room or a housing allowance of HUF 40,000 per month will be provided. This does not cover the full cost of living, though.
Medical insurance for up to HUF 65,000 (approximately EUR 180) per person is provided for a period of 12 months.
---
Field of Study Subjects
You can apply for BS, graduate, and postgraduate programs in the following subjects for Hungary Government scholarships in Hungarian universities.
Agriculture Programs:
• Rural Development Engineering
• Agricultural Environmental Management Engineering,
• Agricultural Water Management Engineering
• Animal Husbandry Engineering
• Food Safety and Quality Engineering
• Plant Protection,
Business Program:
• International Economy and Business,
Engineering Programs:
Urban Sysems Engineering,
Mechatronic Engineering,
Environmental Engineering,
Engineering Management,
Health Programs:
Health Programs:
Social Work in Health Care,

Social Work and Social Economy,
Humanities Programs:
Science Programs:
Molecular Biology

Hydrobiology – Water Quality Management,
Computer Science:
Computer Science Engineering
Law Program:
European and International Business Law- LL.M.
Music Program:
• Classical Musical Performance.
---
Eligibility Criteria
Applying is open to citizens of countries that are eligible.
A high school diploma is required for those applying for a bachelor's degree.
Candidates must have a strong academic background.
Candidates pursuing master's degrees must hold a bachelor's degree.
Candidates pursuing doctoral degrees must have a master's degree.
A certificate of student status provided by the sending or home university is required for candidates applying for a one-tier or non-degree program.
Candidates must be nominated by the appropriate authorities of the sending partner nations.
Check out the website for additional details on eligibility criteria.
---
Required Documents
The documents that are required to apply for the Hungarian Government Scholarships are:
online application form with a recent passport-size picture.
All of your study certificates with translations in the language of your choice.
You have to provide the latest medical certificate
language proficiency certificate of the applied language of study.
Also, include a one-page typed motivation letter with font size 12 and Times New Roman writing style.
Along with that, attach a copy of your passport that shows your identity.
In the end, provide a letter of personal statement to submit your application.
If you want to get into the doctoral program, you have to send a letter of recommendation and a research proposal.
portfolios and audio portfolios (only for art and music applicants).
Check King Fahd University Scholarship 2024 (Fully Funded) 🇸🇦
---
How to Apply for Stipendium Hungraicum Scholarship 2024-25?
Applicants must apply online at the Tempus Public Foundation's website.
Provide all of your personal information, such as your name, address, date of birth, country, religion, and so on.
Fill out all of the required fields for each level.
Participants must complete the application online and save it before submitting it.
Candidates must not only fill out an application on the Tempus Foundation's website, but also apply through the sending partner in their home country.
When applying using the online method, candidates must agree to the statement before proceeding.