Scholarships
SI Scholarships for Global Professionals for 2024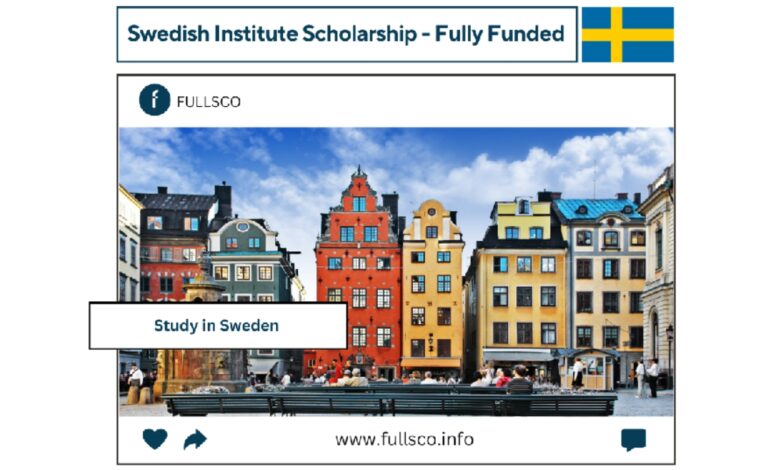 The SI Scholarship for Global Professionals is a Swedish scholarship that provides a once-in-a-lifetime opportunity to advance professionally and academically, explore Swedish society and culture, and establish long-term relationships with Sweden and other global professionals.
Swedish Universities offer a wide range of academic fields and majors under the available scholarship programs. The coverage includes all associated expenses such as tuition fees, airfare, and other living expenses, with support from the Swedish Government. The scholarship period extends to 1 or 2 years, depending on the chosen degree program, and cannot be extended beyond this duration.
The Government of Sweden, through the Ministry of Foreign Affairs, is set to award 300 fully funded scholarships to international students. The initiative aims to cultivate global leaders. Generally, the scholarships are granted to a selective 4-6% of the total applicants.
Swedish Institute Scholarship Details
Host Country: Sweden
Level of study: Master's degree
Financial Coverage: Fully Funded
Eligibility: International students
Deadline: February 28
What do scholarship recipients receive?
Tuition fees are fully covered.
insurance against illness and accidents.
To support your living expenses throughout the study period, you will get a stipend of SEK 11,000 each month.
A travel grant This is a one-time fee that does not apply to students who are already in Sweden.
Available Study Fields
Mathematics
Natural Science
Computer Science and Engineering
Social Science and Behavioral Science
Veterinary Medicine and Nursing
Arts, Design and Media
Business Administration and Economics
Education/Educational Sciences/Didactics
Agriculture, Horticulture, Forestry, and Fishery
Health and Medical Care
Law and Legal Studies
Materials, Construction, and Manufacturing
Religious Studies
Technology
Humanities
Social Work and Welfare
Journalism, Communication, and Information
Languages
Eligibility Criteria
Master's Programs
You need to be SI-eligible for the master's programs you're applying to. We give priority to programs in particular subject areas depending on your citizenship.
Citizenship Country
You must be a citizen of one of the SI scholarship countries.
Azerbaijan, Armenia, Belarus, Bolivia, Brazil, Bangladesh, Cambodia, Colombia, Cameroon, Ethiopia, Egypt, Ecuador, Ghana, Guatemala, Gambia, Georgia, Honduras, Indonesia, Jordan, Kenya, Liberia, Myanmar (Burma), Morocco, Malawi, Moldova, Nigeria, Nepal, Pakistan, Philippines, Peru, Rwanda, Russian Federation, Sudan, Sri Lanka, Tanzania, Tunisia, Turkey, Ukraine, Uganda, Vietnam, Zambia, Zimbabwe
Previous work experience
You must have at least 3,000 hours of documented work experience. Furthermore, you must have shown leadership experience from your current or past workplace, as well as through civil society participation.
Required Documents
Resume (CV)
Reference letters
Letter of Motivation
A copy of your valid passport or national ID card
Reliable and fully completed documentation of your professional experience
How to Apply for Swedish Institute Scholarship
Candidates must first apply for university admission.
After submitting the admission application, the applicant must submit a separate application for SI scholarships.
By March 30, 2023, the candidate must be enrolled in one of the eligible master's programs for SI Scholarships.
You can apply for as many programs as you like, but for the SI Scholarship in Sweden in 2023, you can only apply for up to four master's programs.
---