Scholarships
Government of Brunei Darussalam Scholarships 2023 Fully Funded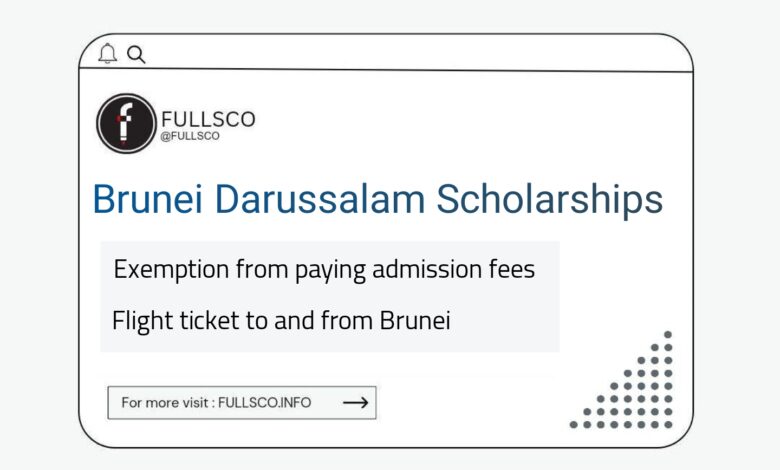 Under the Brunei Darussalam Scholarship Scheme 2024-2025, candidate students who belong to well-qualified and highly qualified academic educational backgrounds and who wish to study in one of the best Asian universities should take advantage of plenty of trustworthy opportunities to study in Brunei. Also all students who may wish to enroll in a Bachelor's degree and a Diploma degree as well as enroll in a Master's degree program for higher academic studies in Brunei.
Details about University Brunei Darussalam Scholarships
Country: Brunei
Degree Level: Diploma, Undergraduate, Postgraduate Master's Degree, PhD
Eligible Nationalities: All Foreign Nationals
Financial Coverage: Fully Funded
Financial Benefits of Brunei Scholarship
Exemption from paying admission fees, exams, registration, orientation and other tuition fees.
Flight ticket to and from Brunei Darussalam.
A cash allowance as a personal expense for the student.
Housing in the residential college of the university.
An allowance for shipment of the scholarship recipient's personal effects to his or her country of origin or country of residence upon completion of the programme, up to a maximum of:
BND$250.00 to a country within the ASEAN region
BND$500.00 to a country outside the ASEAN region
Comprehensive Insurance Cover for the whole duration of the Scholarship.
Fields of Study
Anthropology
Applied Linguistics
English Literature
Environmental Studies
Geography
History
Malay Language & Linguistics
Malay Literature
Professional Communication & the Media
Art
Sociology
Management
Economics
Finance
Biodiversity
Biology
Biotechnology
Chemistry
Computer Science
Geoscience
Mathematics
Applied Physics
Public Health
Biomedical Sciences
Clinical Sciences
Nursing
Midwifery
Islamic Governance
Public Policy
Material Science
Energy Studies
Systems Engineering
Chemical Engineering
Brunei Studies
Education
Asian Studies
Participating Universities
A qualified student can study and enroll in diploma, bachelor's or master's programs at any of the universities listed below:
Universiti Brunei Darussalam (UBD)
Kolej Universiti Perguruan Ugama Seri Begawan (KUPU SB)
University Islam Sultan Sharif Ali (UNISSA)
University Technologist Brunei (UTB)
Politec Brunei (PB)
---
University Brunei Darussalam (UBD)
Arts & Social Sciences
Islamic Studies
Technologies
Advanced Materials and Energy Studies
Policy Studies
Asian Studies
Science
Business
Engineering
Health Science
Economics
Education
University Islam Sultan Sharif Ali (UNISSA)
Arabic Language and Translation
Shariah
Usuluddin
Laws
Halal Science
Development Management
Islamic Banking and Finance
Mazhab Shafi'i
Islamic Economics
University Teknologi Brunei (UTB)
Chemical Engineering
Civil Engineering
Electrical & Electronics Engineering
Mechanical Engineering
Mechatronics Engineering
Petroleum Engineering
Business Honors (All Fields)
Economics
Food Science & Technology
Computing
Architecture
Politec Brunei (PB)
Diploma in Business Accounting and Finance
Diploma in Data Analytics
Diploma in Digital Media
Diploma in It Network
Diploma in Information Systems
Diploma in Web Development
Diploma in Architecture
Diploma in Interior Design
Diploma in Architecture
Diploma in Interior Design
Diploma in Civil Engineering
Diploma in Electrical and Electronics Engineering
Diploma in Mechanical Engineering
Diploma in Petroleum Engineering
Diploma in Science Technology (Chemical Laboratory Technology)
Diploma in Telecommunications and Systems Engineering
Diploma in Telecommunications and Systems Engineering
Diploma in Health Sciences (Nursing)
---
Eligibility Criteria
Applications are open to citizens of Asian, Commonwealth and OIC member states.
Applicants must be between the ages of the undergraduate and diploma programs. Between 18 and 25 years old
The age of applicant for Postgraduate Master's programs on July 31, 2023 must not be more than 35 years old.
The award is not available to permanent residents of Brunei Darussalam.
How to Apply
The application can be made with an application for admission through the University of Brunei Darussalam online admission system. The official website link is given below.