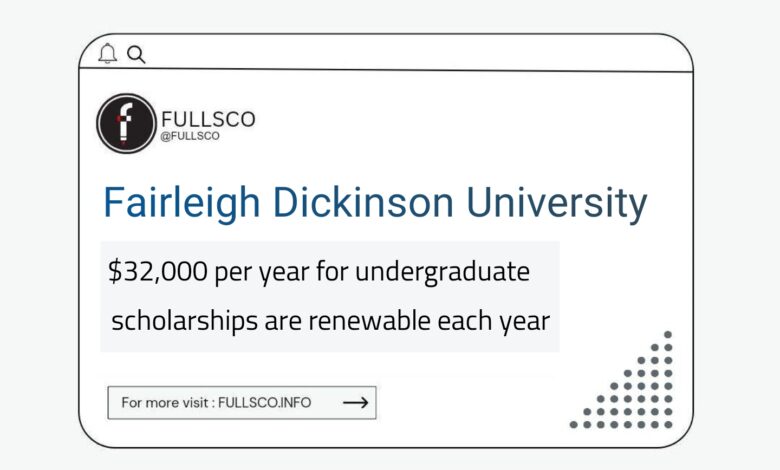 Start your scholarship in the USA. The Fairleigh Dickinson University Scholarship 2024 at Fairleigh Dickinson University is currently open. Below in this article, we will explain to you the details of the Fairleigh Dickinson University Scholarships and what the benefits and procedures for applying.
Fairleigh Dickinson Scholarship Details
Level of Study: Undergraduate
Institution(s): Fairleigh Dickinson University
Study in: USA
Program Period: Four years
Scholarship value
Fairleigh S. Dickinson Scholarship: Up to $32,000 per year for undergraduate studies.
FDU International Scholarships: Up to $27,000 annually for an FDU International Undergraduate Scholarship and $1,000 to $10,000 annually for an FDU International Graduate Scholarship.
Scholarships are awarded annually (fall and spring semesters)
Courses Offered
Accounting
African-American studies
Animation
Animation humanities
Anthropology
Art
Biology
Business
Career studies
Civil engineering
Computer graphic design
Humanities
Chemistry
Cosmetic science
Counseling
Creative writing
Criminal justice
Creative writing
Computer science
Creative writing
Dance
Economics
Education
Electrical engineering
Health care Engineering
Entrepreneurship
Technology
Film advancement
History
Tourism
Health science
Languages
Law
Communication
Mechanical engineering
Medical technology
Mechanical engineering
Sports administration
Music
Nursing
Organization studies
Public administration
Eligibility Criteria
Scholarships are generally based on academic merit as well as test scores. Only candidates who have submitted a complete application for the FDU course will be considered. The scholarships are renewable each year based on continued full-time enrollment on the scholarship, maintaining a good GPA, and remaining in good standing at FDU.
How to apply?
Please follow the following application instructions to apply for this scholarship:
Create an account to submit an application.
Upload your application documents, supplementary application items and a checklist of required documents can be found at Forms and Documents page.
By logging into your account you can check the status of your application online.