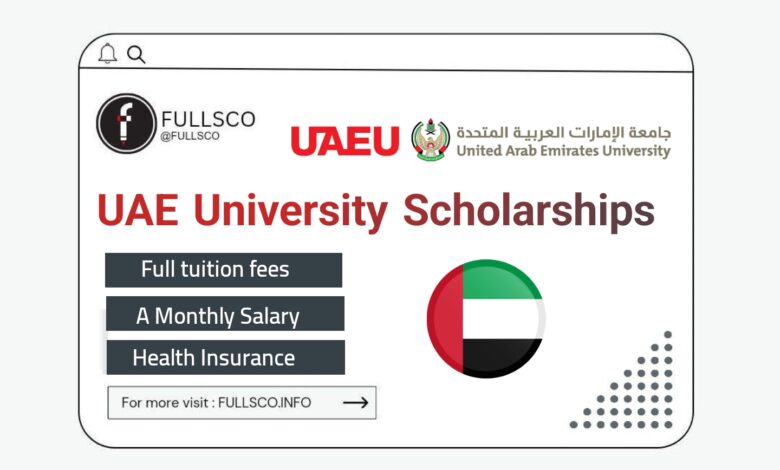 The UAE University Scholarship 2024 has special requests for any national or international student from all over the world who has the qualifications to be able to Obtain the UAE University Scholarship. The UAE 🇦🇪 also encourages students who aspire to obtain various academic degrees from the United Arab Emirates University, such as a Master's degree or a doctorate degree, to apply. The scholarship is fully funded, and the academic session 2024–25 is funded.
UAE University Scholarships Details
Host Country: Dubai
Host University: United Arab Emirates University
Eligible countries: All Nationalities
Scholarship: Funded
Degree: Master's & Ph.D.
Fields Available: Multiple
---
Available Academic Fields & Majors
Science
Humanities and Social Sciences
Business and Economics
Education
Law
Information Technology
Food and agriculture
Medicine and Health Sciences
---
Financial Coverage
The UAE Scholarship grants students to cover the following:
Full coverage of the scholarship tuition fees..
Health insurance (optional) if required.
A salary (monthly) for the student.
Up to AED 2,000 for the internal research grant.
Up to Dh3,000 in external research scholarship.
---
Eligibility Criteria
Any student wishing to receive a scholarship from the UAE University, must complete the eligibility criteria for the scholarship, which are:
Local and international students are eligible to apply for the scholarship.
English language proficiency.
The student must have a bachelor's degree with a cumulative GPA of 3.0 on a 4.0 scale or equivalent.
You can check the detailed information (Here)
---
Required Documents
UAE Scholarship Application The online application form must be filled out with the following information:
For Emirati students, they are required to have: Nationality ID, a copy of the passport, and an Emirates ID card.
Foreign students residing within the United Arab Emirates are required to: visa, Emirates ID card, passport.
Foreign students need no more than a passport.
Official transcripts of certificates from universities and colleges.
CV
A certified copy of the IETLS and TOEFL certificates from the university's accredited centers.
Completed Security form.
A letter of recommendation from two professionals who are familiar with the students' academic work.
---
How to Apply
Each student applying for the scholarship must fill in the electronic form with all the required documents.
If you are one of those interested in getting the UAE University Scholarship , visit the official link below: